A Gantt chart is a type of bar chart that illustrates a project schedule. It is used for visual representation of schedules in project management software such as Microsoft Project and Primavera.
XLGantt also shows Gantt charts in the form of bar charts, and you can set various display styles in the options menu.
1. Components of Gantt chart
In the XLGantt(Excel Gantt), Gantt charts are displayed on the right side of the sheet as shown below. Each component is displayed as follows.

① Subtasks: Bar charts are displayed in blue.
② Summary tasks : Bar charts are displayed in yellow.
③ %Work Complete : It is indicated by the solid blue line. It is easy to see how much work has been done.
④ Today line : a vertical red line
⑤ Area where the dates are displayed: Depending on the setting, the interval of the scale can be displayed in units of days, weeks, and months.
2. Set Gantt chart display styles
Go to the ribbon menu> XLGantt tab > Options> Gantt chart > "Gantt Chart Display", set the Gantt chart display style.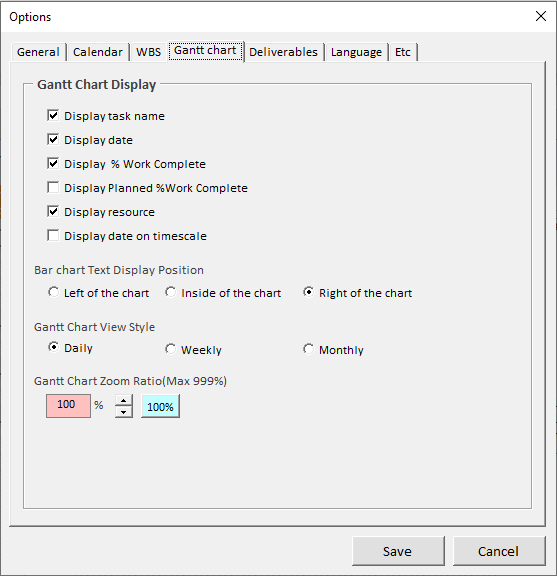 1) Display text in Gantt chart area
When you check the following items in the options, each text is displayed in the Gantt chart area.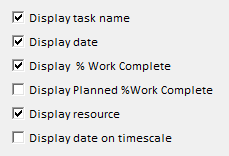 The figure below shows an example of the text displayed when all checkboxes are checked.

2) Text display position of the bar chart
You can set the text display position on the left, inside and right of the bar chart.

3) Gantt chart view styles
You can select daily, weekly or monthly views.

4) Gantt Chart Zoom Ratio
You can set the zoom ratio of the Gantt chart by using the spin button in the options.
You can set a minimum of 10% and a maximum of 999%.

3. If the format of the Schedule sheet is damaged
If the Gantt chart does not display properly while using the XLGantt,
go to the ribbon menu> XLGantt tab, click "Reformatting" to reformat the Schedule sheet.

[ XLGantt(Excel Gantt) How to ]