To use XLGantt(Excel Gantt), please follow the steps below.
1) Download the program file from the link below!
After downloading, unzip and use the "XLGantt_v4.0.0_20200801_Release_ENG.xlsm" file.
Note: It is recommended that you do not download a xlgantt file on sites other than xlworks homepage because the file may be changed or may contain virus.
2) After downloading the XLGantt file, press "Enable Editing" button.
3) If you see a security warning related to using macros, click the "Enable Content" button.

4) Clear all tasks entered as examples and enter tasks. Please enter only the start and finish date of the subtasks.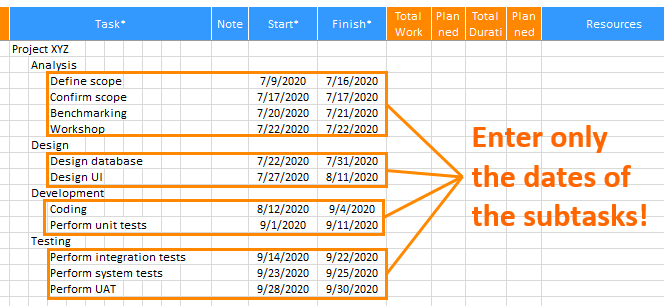 5) Click the "Update Schedule" button on the "XLGantt - Project Scheduler" ribbon menu.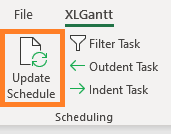 6) When you enter task names, start and finish dates, and %work complete values, XLGantt automatically calculates the tasks durations, planned %work complete values.

[ XLGantt(Excel Gantt) How to ]
XLGantt(Excel Gantt) How to #1 - Getting Started With XLGantt