Program Updates
XLGantt version 3.0.1 has been released (10/27/2017 Release)
Version 3.0.1 includes following features and bug fixes :
Added a feature to view the progress graph of planned / earned / actual workload (weekly / monthly).

Data export for analysis to "Workload" sheet.
Week number display on the Gantt chart.
Date display on the Gantt chart timescale.
Bug fixes etc.
Download the program file from the link below!
After downloading, unzip and use the "XLGantt_v3.0.1_20191027_Release_ENG.xlsm" file.
XLGantt Version 3.0.1 Terms of Use
This "Program" is free software developed and distributed by xlworks.net. This program is free to use anywhere, anytime including personal / business / government / school.
This Software is protected by copyright laws and other intellectual property laws and international treaties and may not be modified, reverse engineered, decompiled, disassembled, or made part of other software.
[ Posts related to XLGantt ]
---
Version 2.1.0 includes following features and bug fixes :
Group rows feature

Fixed bugs that do not work with Excel 2007 version
Fixed errors when opening multiple XLGantt files at the same time
Fixed errors when saving a XLGantt file using 'Save as'
Version 2.0.0 includes following features :
Gantt chart displays planned %Work Complete and Resource
Gantt chart Daily / Weekly / Monthly view
Gantt chart Zoom
You can set the First day of week
Improvement of calculation method of nonworking days
"Open Deliverables Folder" menu
"Add to MS Outlook Task" menu
---
Features of XLGantt 
XLGantt is a program designed to enable project scheduling in Microsoft Excel. It is composed of the following features. You don't need to install this program because it is a Excel macro file.
1) Task Management and Progress Calculation
When you enter task names, start and finish dates, and %work complete values, XLGantt automatically calculates the task durations, planned %work complete values.

2) Gantt Chart
Displays the Gantt chart of the schedule. In the options, you can choose whether to display task name and dates and so on.

3) Analysis Report
Shows you the progresses and workloads of the project by weeks, months, and resources.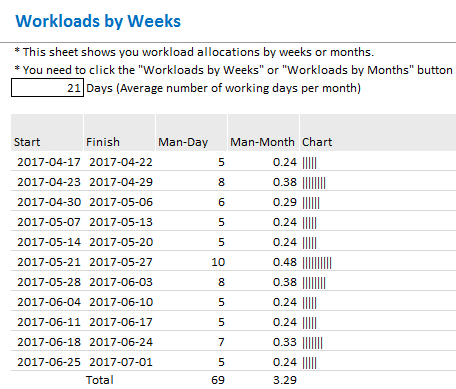 4) Scheduling Change Management
Manages the planned schedule and actual schedule of the project.
5) Deliverables
Specifies the save path of the deliverables and open the deliverables.
6) Adding Tasks to Microsoft Outlook Calendar
Adds tasks to the Outlook calendar.
7) Multilingual Support
Currently we support only English and Korean as user interface(UI) language at XLGantt. Since the program code and the resource file for multiple languages ​​are separated, it is possible to add multiple languages ​​without modifying the program.
8) Importing Schedules from Another File
Imports schedules into XLGantt. You can import the schedules by mapping the fields.
9) Setting Nonworking Days
When you enter nonworking days, XLGantt excludes them from calculations of working time. Standard calendar is the default calendar. If you want to specify a different calendar for a specific task, please use "User Defined Calendar 1" or "User Defined Calendar 2".
10) Integration with Excel Features
You can include the formulas and functions of the Excel in XLGantt.